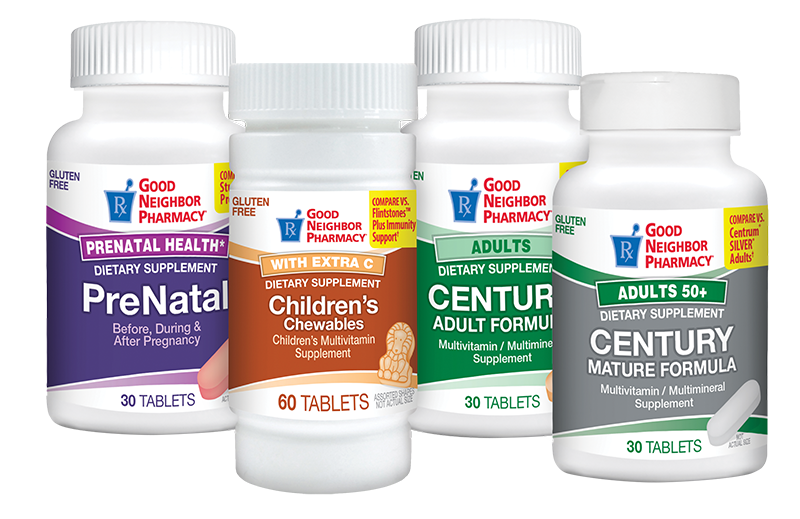 Good Neighbor Pharmacy Free Vitamin Program includes:*
Good Neighbor Pharmacy PreNatal Tablets
Good Neighbor Pharmacy Children's Chewables Multivitamin Tablets
Good Neighbor Pharmacy Century Adult Formula Multivitamin Tablets
Good Neighbor Pharmacy Century Mature Formula Multivitamin Tablets
* Check with your local pharmacy for availability. Vitamin offering may vary per participating pharmacy.
Through this community-focused program, each member of your family can receive a FREE 30-day supply of Good Neighbor Pharmacy complete vitamins each month.
Your health and wellness are our biggest priorities. We want to make sure you and your loved ones get the nutrients needed to live healthy and happy lives, which is why we offer the Good Neighbor Pharmacy Free Vitamin Program to ensure everyone who visits a participating store, from children to seniors, can get what they need each month to help their bodies grow and thrive.
To take advantage of the Free Vitamin Program, locate a participating store using the search bar below. Then download and print the enrollment, complete it and drop it off at your local participating pharmacy.
Use the store locator below to find a Free Vitamin Program participating store near you.
Please note, the status of participating stores could be subject to change. Please check with your local pharmacy to confirm their status.