Be prepared with a comprehensive record of your child's personal and medical information. During the month of August, free ChildPrint ID Kits® are available at participating Good Neighbor Pharmacy locations, while supplies last.
Many lost and abducted children can be recovered if their parents provide police with a complete record of identification. Parents should always be prepared by keeping updated family records at home, in a safe and secure place, in case of an emergency. A ChildPrint ID Kit® assists parents in creating a confidential and extremely comprehensive record of their child's personal and medical information to immediately give to police, saving precious time and hastening the search.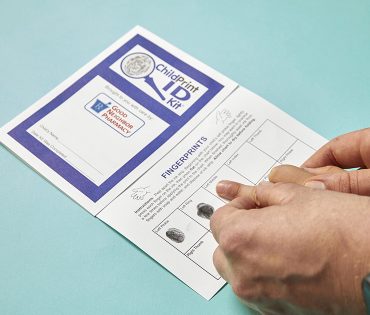 Each fully assembled, 8-panel kit is individually packaged in a heavy clear, protective plastic sleeve, and contains:
A 1" x 5" non-toxic fingerprinting ink strip
A heavy gauge freezer-safe bag for a DNA hair sample or cheek swabs
Space to record complete contact, personal, medical, and physical information
Space to store a 4" x 6" photograph
A 10-finger fingerprint chart
Dental charts for permanent and baby teeth
Two pages of essential educational safety tips
Use the store locator below to find a participating store to pick up a free ChildPrint ID Kit® today.